Jets - Complete Spa Plumbing Systems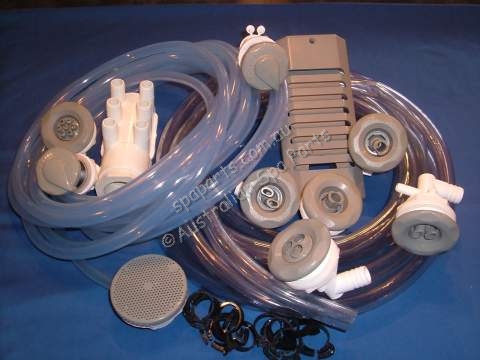 6 Jet Kit Shown
Complete Spa / Hot Tub Plumbing Systems for spas and spa baths
The kits listed below are suitable for spa pools only
Please contact us for plumbing a bath tub as a spa bath.

All come with plumbing instructions
All systems can be added to or modified
All systems listed are GREY

For spa shells that are already drilled - ensure the fittings specified will fit the holes in your spa or require bigger holes that you can drill out.

Hole sizes for specified fittings:
Waterway Mini Storm Jet - 55mm
Waterway Poly Storm Jet - 67mm
Waterway Suction - 60mm
Waterway Strip Skimmer - 60mm
Waterway Air Venturi Control - 41mm
Waterway 2" Diverter Valve - 80mm
Waterway Multi-Body Air Injector - 15mm
Waterway Top Flo Air Injector - 30mm
Warning - DO NOT drill out your spa shell until you have your fittings - double check hole sizes required - we will not be responsible for damage caused as a result of the sizing information above possibly being incorrect due to product changes and substitution.

If you require fittings of different sizes, please browse products on the site to find fittings with similar size and order individually.
---
This category is empty! Please try another category or use our search function to find what you are looking for. If you require further assistance please contact us.