Notify me when back in stock
Product Description
Aquacheck Select Connect 7 in 1 test strips kit complete with plastic comparator

Aquacheck Select Connect Kit which comes with the colour chart comparator for use with digital test strip reading using a smart phone and the Aquacheck Connect App on the App Store or Google Play.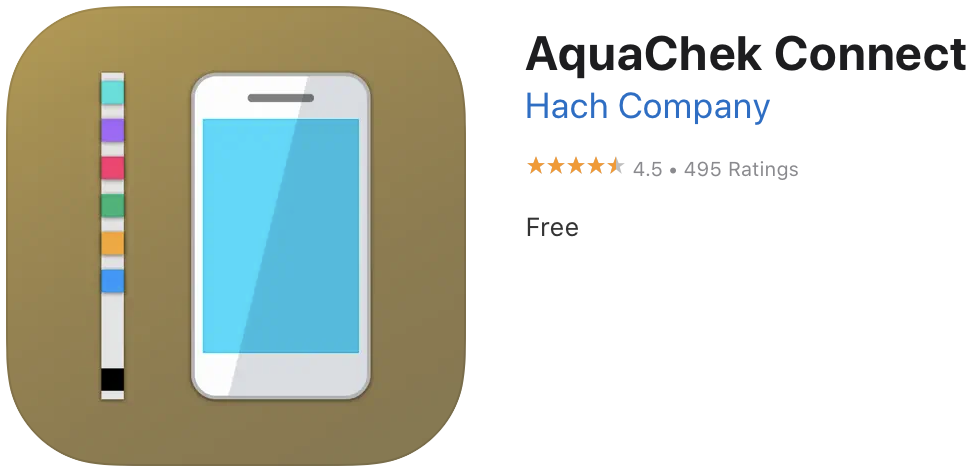 The free user friendly App uses innovative photo capture technology to digitally scan the test strip and provides a personialised water treatment recommendation.
Supplied with a handy guide that teaches you how to treat your spa or pool.

These single use disposable strips calulate:

Free Chlorine 0-10ppm,
Total Chlorine 0-10ppm,
Total Bromine 0-20ppm,
pH 6.2-8.4,
Total Alkalinity 0-240ppm,
Calcium Hardness 0-1000ppm,
Cyanuric Acid 0-300ppm.

Test strips for use with chlorine pools or spas and/or bromine treated spas.
Includes calcium hardness and cyanuric acid test also. Most other strips test sanitiser and include pH and total alkalinity only.

These strips are a great choice for chlorine spa systems or for properties with both a chlorine pool and a bromine spa.

These test strips include not only free Chlorine, but total Chlorine as well. This is important in Chlorine pools and spas in order to determine the level of Chloramines to assist in identifying when shock dosing is required.
---
More From This Category