Spa Bath Plumbing Systems - Kits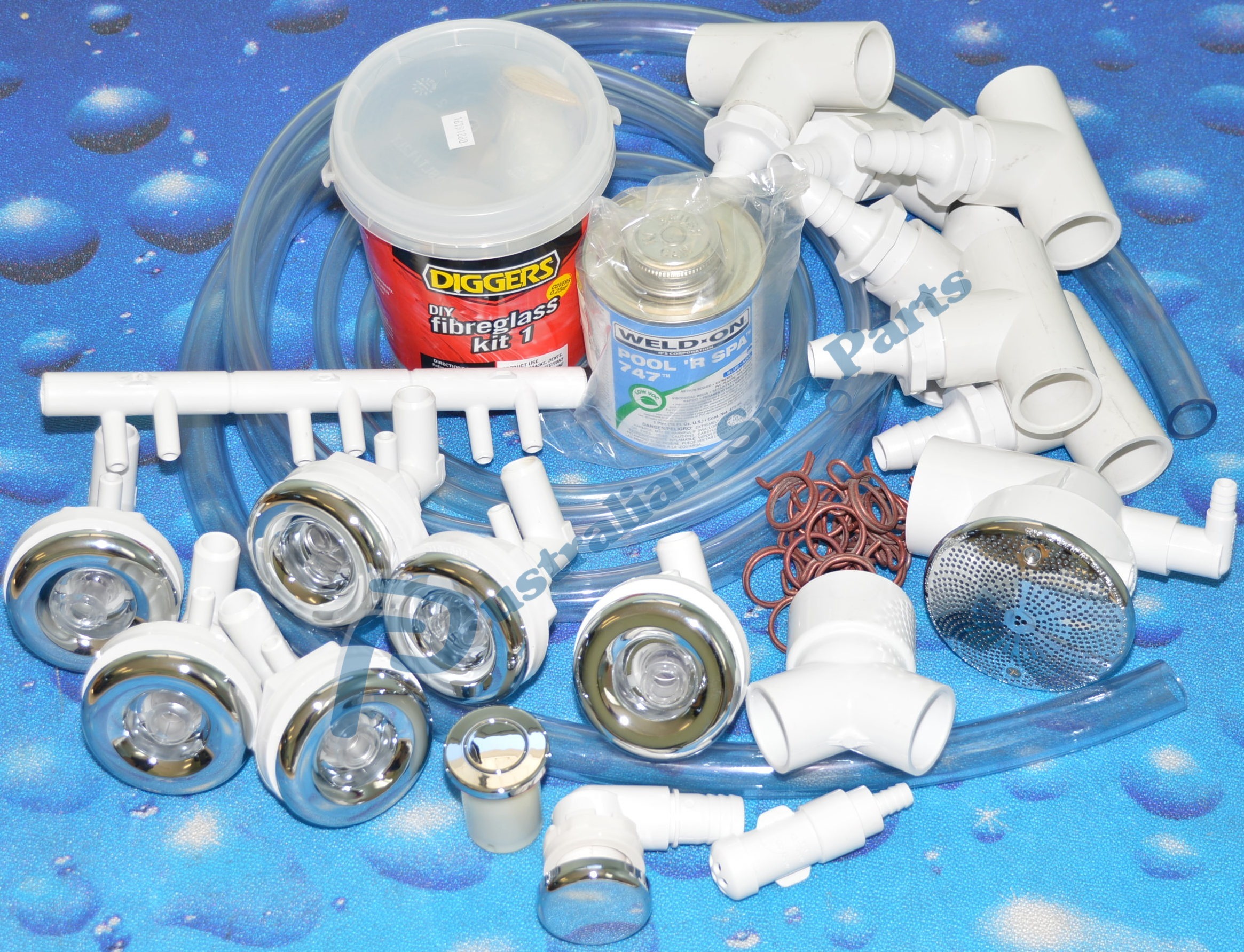 The kits listed below are designed for either retofitting an existing spa bath with new fittings including all plumbing, or the conversion of a standard bath to a 'spa bath', also suiting un-plumbed 'ex-display' spa baths that are commonly sold at auction.
This work should only be carried out by someone competent, with the correct tools including correct diameter hole saws.
An understanding of plumbing and ensuring self drainage on emptying the spa is very important.
The kits below utilise a plumbing system not seen in Australia previously.
These USA manufactured Waterway Plastics jets and fittings have been specifically designed for use with flexible Clear Vinyl Tubing from the main plumbing rings.
this differs greatly from the traditional ridgid plumbed spa jet systems that are commonplace around Australia, but are so incredibly easy to plumb and work with, this is the only system that we recommend anyone attempt outside a spa bath factory.
The general idea is to run the water system plumbing main line high above the spa jets (from the pump) with manifolds above the jets.
The Air venturi system is also run in parallel with the water main line, also with manifolds above the jets.
CVT tubing is then run vertically down from the manifold to each jet individually.
This system makes installation much faster with a lot less risk of leaks. Any leaks that do occur can be easily rectified prior to installing the bath permanently.
All systems listed utilise Waterway Luxury Series 200 and/or 300 spa bath jets with require 38mm & 55mm holes in the spa bath respectively.
We have listed a few of the more common configurations.

Note that the system / number of jets must match the size/type of spa bath pump being used.
---
This category is empty! Please try another category or use our search function to find what you are looking for. If you require further assistance please contact us.