Mona Lisa-Jazzi-Spas - Infinity Megastore Spas
Electronic control panel topside touchpads for Chinese manufactured spas from Mona Lisa Spas, Jazzi Pool, JNJ Spas and others
Monalisa Spas, Jazzi Pool spas and JNJ Spas are sold into Australia and around the world under many names.

In Australia the main brand Mona Lisa Spas were sold as was Infinity Megastore Spas or Infinity Spas
Also sold by Blue Have n Spas and others

Listed here are three Chinese manufactured electronic spa touchpads:
HLW-15B 16 button touchpads,
M07D1 or MN07-D1 15 button touchpads,
Ethink KL8-3 16 button touchpads

Please note: there are numerous versions that look identical/near identical and may or may not be cross compatable - always check the electrical connection types, compare decal markings and physical size. Any doubts, contact us prior to purchase.
---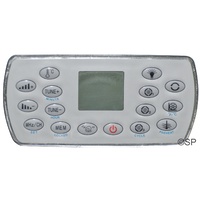 SKU: ETKL8-3tp
Ethink KL8-3 touchpad Used with Ethink KL8-3 spa control box and: Up until mid 2015 - with non Ethink heaters such as LX H30 After mid 2015 - with both Ethink AND alternate heaters such as LX H30 Prio...
7 In Stock
Backorder
If 'Backorder' is displayed, this spa part is temporarily out of stock but still available for purchase.
Delay in supply may be between 1 day and 12 weeks depending on product/source or whether its already in transit to us - the vast majority of back ordered parts are available within days. If you 'Backorder', the part will add to your shopping cart and be charged. It will then ship as soon as it's received. If you are concerned about the potential wait time, please contact us for advise on expected delay timeframe on this particular spa part.

We recommend you purchase backordered parts using Direct Deposit as your payment method so that no automated credit card charge is made ahead of supply. This puts the order in place, but payment can then be delayed until parts become available. You will then be able to pay via direct deposit, or credit card via 'my account' online or over the phone.

It's possible that a product displaying 'Backorder' is in fact in stock and displaying incorrectly. The item may also be out of stock and discontinued (no longer available) and not yet removed from view. For these reasons we strongly encourage you to contact us to confirm availability on items displaying 'Backorder'.