Electric Spa & Swimming Pool Heaters - Three Phase

Elecro Optima Compact and Titan Optima series electric Swimming Pool & Spa heaters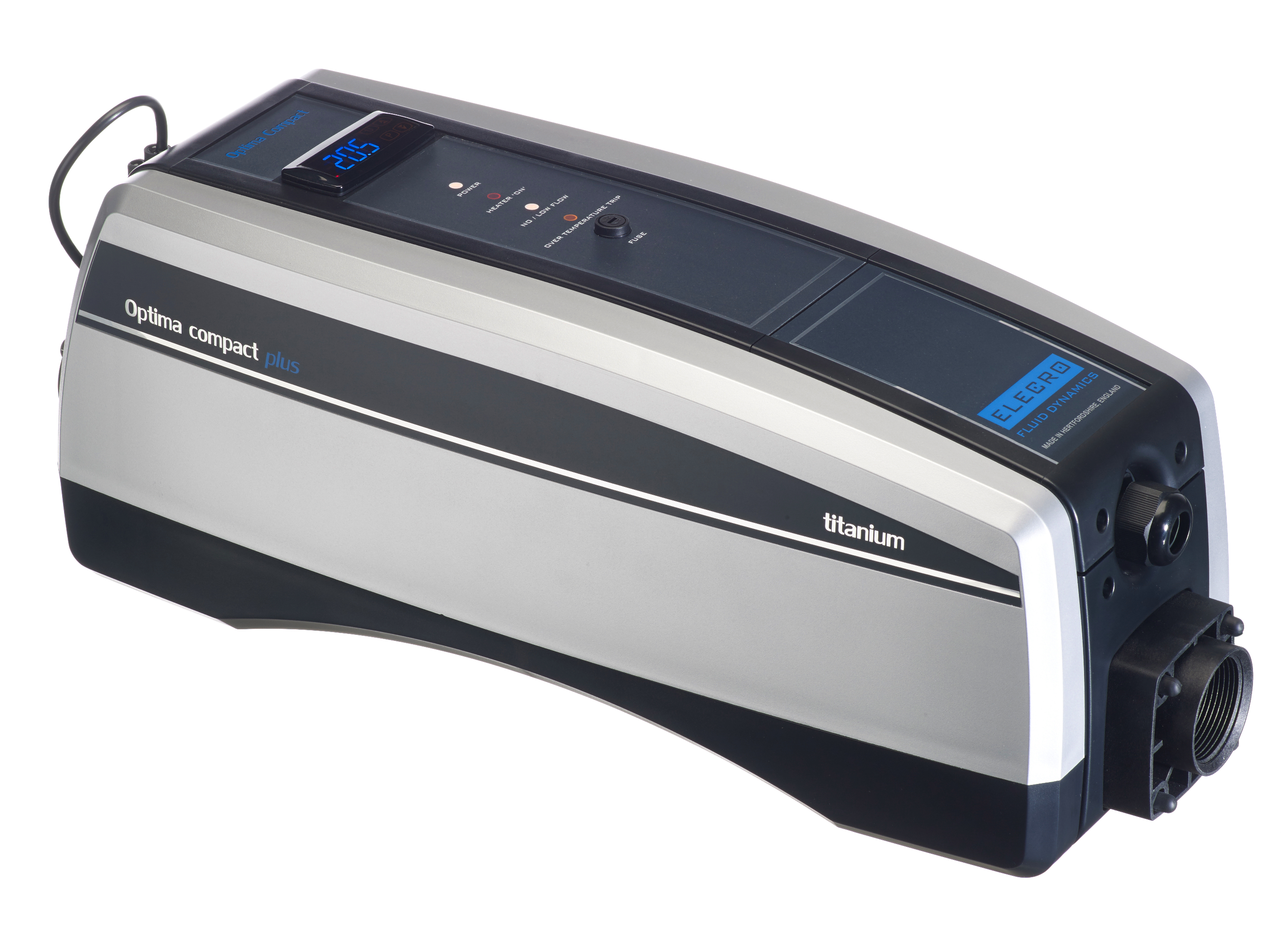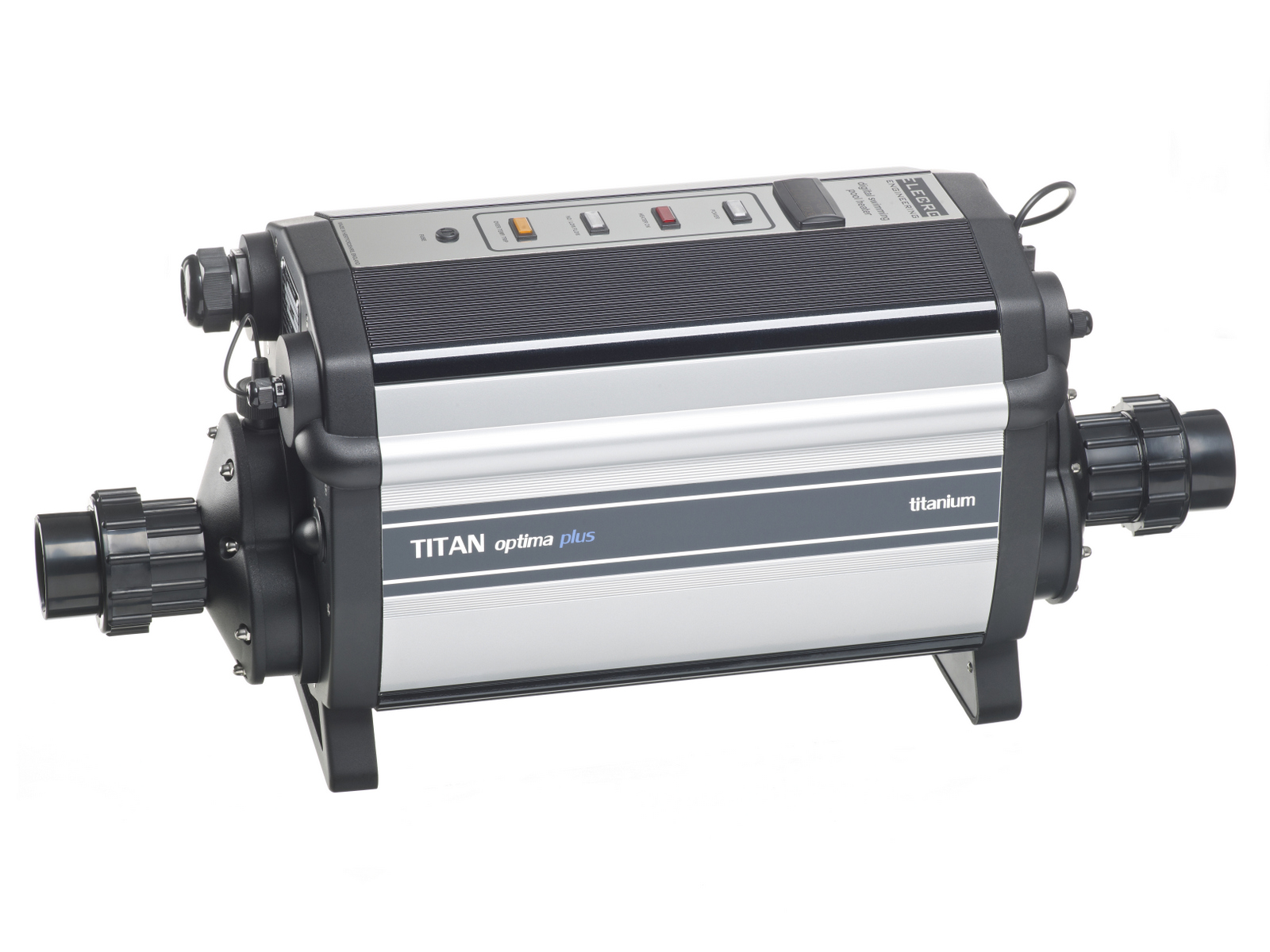 3 Phase Heaters - 8 sizes available: 12kw, 18kw, 24kw, 36kw, and 54kw stocked. 15kw, 30kw, 45kw special order
Electric Three Phase 415v Stand Alone Spa Heaters
Easy Installation, horizontal floor or wall mount on a shelf
Super safe operation
Robust, durable construction
Digital water flow signal, no pump interlock required
Low element Watts density reduces encrustation
Titanium heating elements zero corrosion guaranteed
Titanium flow tube (Titan Optima

Plus

)
Dual cascade wired

Schneider

contactors on each element bank
Digital timers for staged energisation
Digital thermostat provides more accurate temperature control
Epoxy coated aluminium cabinet (Titan Optima series)
Construction
The Titan Optima Pool & Spa heater is manufactured from top quality components and material at the Elecro works in Hertfordshire, England.
Construction consists of three flow tubes which are fitted to the uniquely designed manifold mouldings made from specially formulated polymer alloy material. Spiral wound titanium heating elements provide a 'Vortex' water flow, these are positioned equidistantly along each flow tube, providing ultra efficient performance. The low Watts density of these elements guarantees extended life and reliability. The outlet manifold accommodates a flow switch which provides a digital signal to the control board. The inlet manifold is fitted with a titanium temperature detection pocket, fitted with NTC temperature sensor.
The heater is supported by two G/F polyamide chassis end panel mouldings, these together with durable aluminium panels form an enclosure finished in tough epoxy powder coated paint. The enclosure houses the cascade wired Schneider contactors (two per element bank), timers and control board. The enclosure design encourages induced cooling giving an extended switch gear life span.
The heater control panel is on the top of the enclosure containing the indication and fault lights as well as the digital touch control screen. The unit can be horizontal floor or wall mounted on a shelf offering the simplest and tidiest of installations, even in limited space, thus making it particularly suitable for parallel multi-unit installations.
Operation
The Titan Optima heater can be easily operated using the touch screen control panel. The inlet manifold has been designed to minimise flow imbalance between the flow tubes, greatly reducing the risks of air locking. Safety and equipment protection is provided by the highly reliable flow switch, over temperature protection is provided by the four safety thermal cut outs (auto-reset) and a safety thermal cut out (manual reset).
The digital control board allows accurate control of the pool water temperature thanks to its high precision. The blue digital characters on the touch screen are clearly legible, even in bright sunlight.
To reduce voltage drop on start-up, the heater element banks are energised in a staged cascaded sequence, with a time delay between energising each bank.
Optima Compact heaters differ from Titan Optima series heaters in the following ways:
The housing is of Polymer construction.
Optima Compact heaters utilise a single flow tube assembly
1.5" / 40mm plumbing connections - unions included
They do not incorporate the additional delay relays and components, but are otherwise essentially the same control circuit construction and heater flow tube construction.
Element watts density is higher in equivalent rated heater. eg a 24kw Optima Compact uses 3 x 8kw elements. A 24kw Titan Optima utilses 6 x 4kw elements to lower the watts density and thereby increasing element life expectancy.
Technical Specifications
Heating Elements - Titanium
Flow tubes - BS 316 Stainless Steel (Titan Optima) or Titanium (Titan Optima Plus)
Cladding panels - Moulded aluminium, epoxy powder coated
Contactors
Cascade wired, Duel Schneider contactors per element bank
Digital Control Thermostat0ºC > 40ºC (0.5ºC Differential)
Safety Thermal cut-out 55ºC (Manual reset)


Enclosure Thermal cut-out 60ºC (Auto reset)
Flow Switch - Gold tipped reed switch with Titanium fulcrum pin
Wiring - High temperature, silicone sheathed, multi-strand copper conductors
Seals - High temperature special formula EPDM
Water Connections 63-mm Spigot, supplied with 2"/50mm unions
Working Pressure - 4 bar / 400 kPa maximum
Mounting - Horizontally floor, or wall mountable on a shelf

Power Output | Load Amps* | Circuit Breaker Required | Optima Compact | Optima Compact Plus | Length
12kw 18 20A ASP-OC-12 ASP-OC-12-T 592mm
15kw 23 25A ASP-OC-15 ASP-OC-15-T 592mm
18kw 27 32A ASP-OC-18 ASP-OC-18-T 592mm
24kw 33 40A ASP-OC-24 ASP-OC-24-T 592mm
Power Output | Load Amps* | Circuit Breaker Required | Titan Optima | Titan Optima Plus | Length
18kw 27 32A ASP-TO-18 ASP-TO-18-T 699mm
24kw 36 40A ASP-TO-24 ASP-TO-24-T 699mm
30kw 45 50A ASP-TO-30 ASP-TO-30-T 699mm
36kw 54 63A ASP-TO-36 ASP-TO-36-T 699mm
45kw 68 80A ASP-TO-45 ASP-TO-45-T 699mm
54kw 82 100A ASP-TO-54 ASP-TO-54-T 699mm
* Load in amps at 415v power supply.
Electrical safety certificate SAA-142396-EA, SAA-142239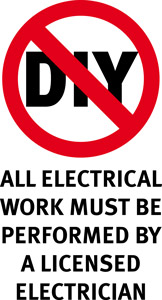 Elecro Optima Compact and Titan Optima mini-website - Click Here
---
SKU: asp-oc-18-x
Elecro Optima Compact / Compact PLUS TITANIUM 18.0kw Commercial grade digital 3 phase electric spa / pool heater - 3 year warranty 40mm plumbing unions. Minimum flow rate of 67 LPM Maximum flow rate of 266 L...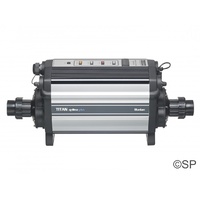 SKU: asp-to-36-ti
Elecro Titan Optima PLUS TITANIUM 36.0kw Commercial grade 3 phase 100% TITANIUM electric element Spa / Pool heater - 3 year warranty Titanium flow tubes and elements - suitable for all pool, spa, marine a...
2 In Stock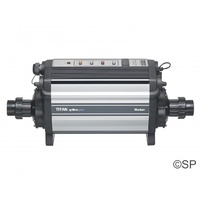 SKU: asp-to-45-T
Elecro Titan Optima PLUS TITANIUM 45.0kw Commercial grade 3 phase 100% TITANIUM electric element Spa / Pool heater - 3 year warranty Titanium flow tubes and elements - suitable for all pool, spa, marine a...
1 In Stock